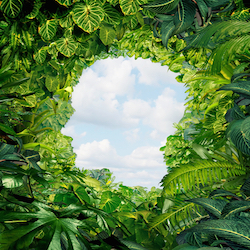 Giving so greatly to another person that one outcome for the giver is emotional harm or damage, is one example of self-sabotage.
Despite originating in sincere kindness and love, if our motivation is not moderated by awareness of limits to one's own resources, both inner and material, we are likely headed along a path which may jeopardize ourselves.
For simplified example, offering to drive someone we know and care about, home from the airport.
Offering this gift when our time is required at our job, or when we won't have enough money to buy groceries for ourselves because we spent funds on tolls and fuel driving back and forth to the airport, is a kindness which comes at an unnecessarily steep cost to ourselves.
This is self-sabotage.
An example involving relationship dynamics is when someone realizes their partner routinely doesn't care to consider their point of view.
If the one receiving this pattern decides to accept it instead of bringing up both their observation as well as their hurt feelings, then the person is likely self-sabotaging.
Often someone who accepts our generous gift, or who overlooks our wish that our views be acknowledged, is unaware of the sacrifice we are making on their behalf.
Noteworthy too, people who self-sabotage don't consciously try to undermine themselves. Most often the awareness of giving beyond fairness, is hindsight awareness, often after many years of discomfort.
Usually someone who self-sabotages grew up in a family context of great and weighty responsibility for other family members or even themselves prior to being emotionally and psychologically prepared to do this.
Someone whose responsibilities as a child demanded over-giving and over-doing usually establishes these features as their adulthood standard.
How does someone extract themselves from a definition of love which assumes ignoring or overriding one's self-interest?
Self-love is the foundation and the guidance to avoid self-sabotage.
It is possible to love someone, give to them generously, and not exhaust your emotions or material resources
Distinguish your relationship logic built on early life emotional suffering which drives giving beyond capacity, from realtime choices.
Start to value your self and time.
Accept your own entitlement to designate what and how much of yourself to give someone else, and to expect kindness in return.
Your results will reward you with a sense of greater dignity, confidence, and self-appreciation.