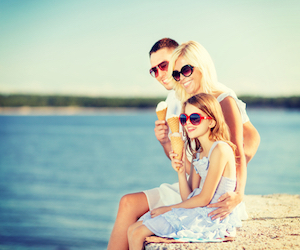 "Ice cream is the perfect buffer, because you can do things in a somewhat lighthearted way. Plus, people have an emotional response to ice cream; it's more than just food. So I think when you combine caring, and eating wonderful food, it's a very powerful combination." – Jerry Greenfield
In 1984, President Ronald Reagan proclaimed July to be National Ice Cream month and the third Sunday of July to be National Ice Cream Day.
In that order, President Reagan stated, "Ice cream is a nutritious and wholesome food, enjoyed by over ninety percent of the people in the United States. It enjoys a reputation as the perfect dessert and snack food."
In reality, most ice cream is actually filled with sugar and fat and not so good for our health.  Yet, ice cream for many people can serve as a refreshing comfort food that can temporarily chase the blues away.
In 2011, Dr. Faith Brynie published an article in Psychology Today that showcased the results of a research study as to why creamy, fatty foods can reduce stress.
Ice cream was a go-to food for my family during the intense parts of our caregiving journey. I found that my father enjoyed dishes of ice cream or frappes toward the end of his life.
The hospice nurses who were supporting my father informed me to not worry about his ice cream consumption as it was providing him with decent nutrition when he turned away other foods.  After all, it was about quality of life and not quantity at that time.
Unfortunately, I turned to eating many of those comfort foods as well during that time and put on significant weight.
After my caregiving journey came to an end, I found that there actually are tons of easy and yummy ice cream recipes out there that can be just as satisfying as that store bought Chunky Monkey.
As a chocoholic, here is one of my current favorites…
Dark Chocolate Peanut Butter Swirl
This chocolate ready-to-serve treat is made out of a banana base (not cream), so there's no guilt. Top with mini chocolate chips for a sundae spin.
SERVINGS: 3 to 4 / MAKES: 3 cups / 1½ pints
½ c plain Greek yogurt
4 frozen bananas
¼ c maple syrup
⅓ c cocoa powder
2 Tbsp natural peanut butter
1. COMBINE first 4 ingredients in a blender and blend until thick and creamy.
2. DRIZZLE in the peanut butter and pulse 2 to 3 times to incorporate.
3. SERVE immediately.
NUTRITION (per serving) 242 cal, 7 g pro, 47 g carb, 6 g fiber, 30 g sugars, 6 g fat, 1.5 g sat fat, 44 mg sodium
I got the above recipe from Alison Young's Prevention Magazine article, which contains 9 other delicious healthy blender ice cream recipes.
Are you feeling less guilty about enjoying some ice cream to boost your spirits?  If yes, mission accomplished.
Get your scoop handy and enjoy!