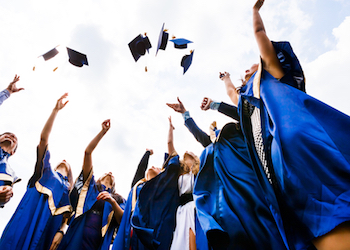 Caps are flying everywhere, and graduates are excited, and scared at the same time. They are moving on to the next phase of their lives. 
Some will be continuing their education – some will choose not to. Some figured a way to manage the expense of higher education, while others have no way to accomplish this. And, there are some ready to be out in the workforce.
Many of these graduates arrived at this point through hardships and disabilities. They were determined, and they did it!
Those survivors of emotional, physical, psychological, and sexual forms of abuse somehow knew there was something inside of them that was worth cultivating.
There is sadness in letting go – of routines, teachers, and friends. There is awareness in everyone that they are moving from their childhood into an adult world. There will be new expectations made of them.
For those who wished to have more choices, they have years ahead when they can decide to revisit taking their education to a higher level.
I was in my forties when I went back to school. It felt magical, and I welcomed the challenges.
Our caps go off to those embarking on their life's journey. Remember to enjoy each moment. Be in gratitude that you have reached this point.