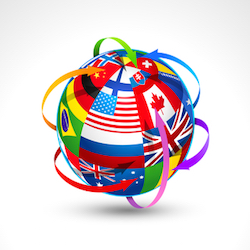 Learning to Pause and Connect
The sense of excitement was palpable as I paused and took in the sight of over 500 people from 32 countries. I was honored to be invited as a key presenter at the World Autism Congress on November 11-13 in Kuwait City.  My talk was titled, "Autism in the Family, Getting the Big Picture: Insights, Experience, Intervention, and Research."
There was calm and comfort in common cause and struggle as well as a sense of connection that families long for and treasure. I reflected in the profound truth that the special needs that come with autism have no borders.  This outpouring of parents and professionals came from the Middle East, Asia, Africa, Europe, North and South America.
The entire conference was bilingual, Arabic and English. In my work I often serve as an interpreter between parents and professionals.  Now I needed an interpreter when asked a question in Arabic or to hear a presentation in Arabic. As I met the passionate family members and professionals, I experienced first-hand that the human heart has no borders.
Presentations covered a wide range of topics from early diagnosis to adulthood including the progress in developing countries. My talk covered the lifelong process of living and loving your family member – changing what can be changed and finding serenity with what cannot be changed. It's the journey to become our best selves both as individuals and as families.
The multinational audience enthusiastically embraced my most profound lesson from loving my son, Tariq that I wrote to him in a letter that he will never be able to read: "I tried so hard to change you, and in the end it was you who changed me. Instead of becoming the son I wanted you to be, you made me become the man I needed to be."
The themes of family life which I heard at the conference mirror what I hear in the United States with a cultural twist added for spice. There is a world wide web of children and families. As the Lebanese philosopher and poet, Kahlil Gibran wrote "You are the bows from which your children as living arrows are sent forth." We find common purpose and value in being and becoming our best selves.