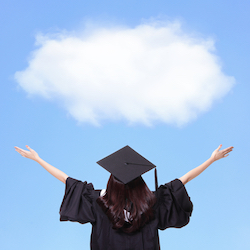 In case you will be at a graduation ceremony and feel restless while waiting to hear the name of your graduate, here is a meaningful way to pass the time.
Reflect on all the times you graduated your own life into deeper quality standards and expectations for yourself.
All of us have had particular relationships, work situations, or an overall feeling about our lives that better was possible and feeling unsure how to change.
What finally woke you up to your need to graduate or that you already graduated an unsatisfying dynamic and to no longer would live a certain way?
Maybe you assumed there was no choice to accepting another person's disregard or disrespect for you. No matter how much you felt the condition was unfair, you didn't see any different way to handle your side of the relationship.
Then suddenly you did and that to continue the status quo felt unbearable.
The way you interpret the facts are different today than before you graduated yourself into a new perspective.
If you recognize you are happier with how you are handling a circumstance or relationship differently now, then build on the openness in your outlook and willingness to trust knowing when graduation time has come.
If you graduated to a higher level of self-respect and prioritizing yourself instead of everyone else in your life, and this brought you peace of mind in a certain relationship, then try your new theory in other circumstances or relationships which may feel somewhat unpleasant.
Chances for most of us are that the mistakes we make for ourselves in one relationship or circumstance will be similar to those we do in another.
Until we graduate!
Once you realize how to see yourself and the dynamic differently, then you will change the situation in question and have the power to realign yourself in maters of similar magnitude.
So enjoy your graduate, the graduation ceremony you will attend, and the new addition of studying and learning to graduate your own life in some particular area!