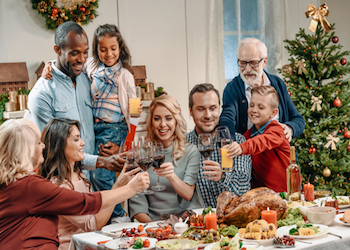 Discussing financial and estate planning with Mom and Dad during the Holidays might sound cold. Yet, I have read article after article that recommends that as you and your siblings gather during the holiday season you should seize the opportunity to approach these planning topics. Especially, if you have noticed over the year or years that your parents have experienced forgetfulness or diminished health.
Timing these discussions during your holiday visit is important. You certainly want to avoid discussing any serious financial matters while everyone is seated for dinner. Wait until the next day!
If you have siblings you should have a plan as to how you are going to broach the" talk" and the questions you need answered. The talk shouldn't be focused on minutia but rather should be focused on those planning issues that are vital to aging parents. Are their Wills up to date and who is the executor? Do they have durable Powers of Attorney and who is named attorney-in-fact (the person named to carry out their financial needs)? Do they have a Health Care Proxy and who is named as medical power of attorney?
This will certainly open the opportunity to learn which of the children are named as an executor or attorney-in-fact. Maybe they named the oldest child in this capacity because he or she is the oldest yet this child lives in California while Mom and Dad reside in New Jersey. Maybe it makes sense to name the younger child who lives close-by for the sake of convenience? Or at the very least in a joint capacity with the older child. Having the children present for these important conversations allows them to voice their opinion even though the final decision rests with Mom and Dad.
You should also learn where these planning documents are housed and the name and address of their estate planning attorney as well as their accountant and financial advisor, if they have one.
If you were able to ascertain all of this information consider the meeting a success. Future meetings can focus more on the minutia such as names of banks, brokerage accounts, on-line accounts, life insurance, long term health insurance, etc.
Happy holidays!