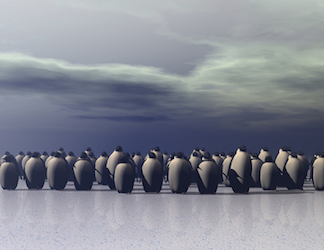 Like any stressor, family caregiving brings out the best and the worst in you, your siblings, your parents, and whoever else is involved or has an opinion. Add holidays and it's even worse. Why? Because, from the beginning of your family, rules and roles have been silently established.
Tolstoy wrote "Happy families are all alike; every unhappy family is unhappy in its own way." While each family may add its own particular flavor, there are some general patterns that emerge. Here are three examples.
R. takes care of her mother, who has Alzheimer's disease. Like many caregivers, R has given up an wonderful career to move in with her mom and provide the 24 hour care she needs. R. has many brothers and sisters, some of them local. But she is the only one taking care of Mom. "Oh, R., you do it so well. I can't do that."
T. lives with her mother, providing care following a major car accident. T is willing to be caregiver, as long as she gets a little support from her sisters. Her sisters think the answer is a nursing home. S the youngest, T is discounted. Arguments and legal battles ensue.
My mother lives independently; I provide the support to make that possible. My sister, who ran a senior day program, lives out-of-state. While I work with Mom to maximize her strengths and find the right supports where she needs them, my sister sees the clinical "big picture" and responds with frustration when her suggestions aren't followed. Old tapes replay.
Three different pictures – uninvolved siblings, opposite viewpoints, and loving but not always helpful. Here are some helpful guidelines that fit them all.
Say what you need – clearly and specifically. "I need you to stay with Mom this Saturday", not "Do you think you could stay with Mom sometime?"
Listen to what is really being said. For instance, "But you know how…" is really fear – of the disease, of lack of skills or control, of coming face-to-face with loss. Figure out what your hearing to find a better answer. Address that underlying emotion, and you stand a better chance.
Learn to negotiate. Home Instead has created what they call the 50/50 rule to help navigate difficult conversations. See more
Use outside resources. Some rules and roles are so entrenched you may not be able to get out of them on your own. A family therapist, a care manager, or a mediator may help.
Know the limitations of your family. Some say the definition of insanity is to keep doing the same thing and expect different results. Acceptance, even of difficult realities, is far less stressful than fighting. Look for support elsewhere. Friends, support groups, disease organizations.
"…the serenity to accept the things I cannot change; courage to change the things I can; and wisdom to know the difference." That's the key to surviving caregiving and holidays in your family.