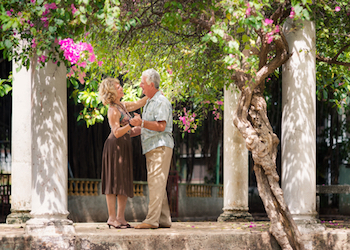 Tennessee Williams pointed out that after the dream of life, there is still life.
I jotted this down in the theater, while watching Cat on a Hot Tin Roof. An intense, dramatic play filled with twists and turns, nuances and unanswered questions, this idea caught my attention.
My life doesn't look anything like my "dream" of life. I remember as a young girl, wanting to marry a dancer. That was my number one requisite. Well, my loving partner is taking dancing lessons with me. We stumble and laugh, and hold each other, enjoying the difficult challenge of learning at our age. And I love it and him for fulfilling my old dream.
And, I find myself luxuriating in the present, knowing full well that tomorrow is not promised. To me every day is another to create – given the reality of the circumstances of that day.
It is clear to me that my mission in life is to heal others. Someone recently read my "aura" and told me that in this life, I am to love. That is my purpose. I have long known that I do my work from love. I appreciate each person and their struggle for personal fulfillment, the ending of pain and a hope for loving relationships. I feel with them, I use my knowledge, my experience, my accumulated skills and wisdom to help them heal the scars they carry from their lifetime; I do it from my deep well of love – for the opportunity living affords, and for humanity.
So, many of us do not "get" to fulfill our young dreams, however, there is always the opportunity to dream new ones! We needn't do it from sorrow. Always learning about ourselves and how we have contributed to our daily experiences and the paths we've taken, enable us to move ahead to embrace new ideas, new opportunities – whatever stage of life we are in.
Major health problems led me to think about facing what might be the end of life for myself. I found peace in executing my Will and providing for those who have accompanied me and enriched my journey. Some friends found that to be morbid. I found it adding to my peaceful acceptance of what may be. My love will live on in the little gifts I leave to those who have meant so much to me, in my development of my Self.
After so many years of living pain and pleasure, learning what is true and worthwhile, growing into myself in a way that I respect, I think I have had it all. And, I remain in anticipation of tomorrow.
Who will come to my door for help with their lives? What will I learn? What music will fill my heart? What writings will I read that inspire or challenge my own thinking and believing? What will I write to share with those interested? Who will be the people I embrace during that day? Whose calls will I take from family and friends?
There is still life. And, I know how to savor the moments, one after another, and how to keep forming new dreams until there are no more moments. Williams said, "I've got the guts to die. What I want to know is, have you got the guts to live?"