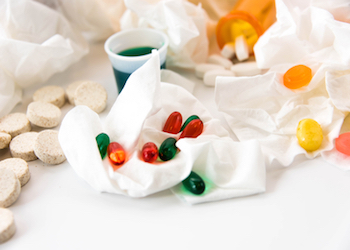 Pharmacists Share Their Top Over The Counter Picks
The New York State Attorney General's announcement in early February of fake herbal supplements on the shelves at four national retailers has rocked the confidence of just about everyone who visits a pharmacy. Walmart, Target, GNC and Walgreens have been ordered to pull the offending products, some of which included powdered houseplant, and worse—powdered wheat in supplements that claim to be wheat- and gluten-free.
Amidst the frenzy, and practically to the day, the American Pharmacists Association released its annual "Pharmacy Today Over-the-Counter Product Survey." The survey lists the products that are most often recommended drugs by pharmacists. It also shows that 79% of the time, patients purchase the OTC (over-the-counter) products their pharmacists recommend, and the average patient-pharmacist-consult lasts about four minutes.
And now, 40 of the pharmacists' top OTC picks…the ones that Baby Boomers and Seniors are most likely to care about:
Fish oil supplement: Nature's Bounty
Garlic supplement: Nature's Bounty
Flaxseed oil supplement: Nature Made
Therapeutic skin care: Eucerin
Moisturizing cream: Eucerin
Topical antibiotic ointment: Neosporin
Nail antifungal treatment: Fungi-Nail
General foot care product: Dr. Scholl's
Episodic heartburn treatment: Zantac
Frequent heartburn treatment: Prilosec
Laxatives-Fiber: Metamucil
Laxatives-Non-fiber: MiraLax
Anti-gas product: Gas-X
Stool softener: Colace
Anti-diarrheal product: Imodium A-D
Hemorrhoidal treatment: Preparation H
Upset stomach and nausea treatment: Emetrol
Motion sickness remedy: Dramamine Less Drowsy (meclizine)
Home cholesterol test: CholesTrak
Diabetes management monitor: OneTouch
Home blood pressure monitor: Omron
Incontinence product: Depends
Urinary tract infection test: AZO Test Strips
Adult multivitamin: Centrum
Calcium supplement: Citracal
Probiotic dietary supplement: Culturelle
Diet aid: Slim-Fast
Artificial tears: Systane
Artificial saliva: Biotene Oral Balance
Ocular nutritional supplement: Ocuvite
Tooth whitening system: Rembrandt Deeply White 2-Hour Whitening Kit
Cold sore treatment: Abreva
Diabetic foot cream: Eucerin
Aspirin for cardio protection: Bayer
Sleep aid: Unisom SleepGels (diphenhydramine)
Lip balm: Carmex
Osteoarthritis pain-Oral: Aleve
Osteoarthritis pain-Topical: Icy Hot
Thermal and pain care patch: Salonpas Pain Relief Patch
Bone and joint strengthener: Osteo Bi-Flex
SOURCES:
Pharmacist.com
NY Times
CNN