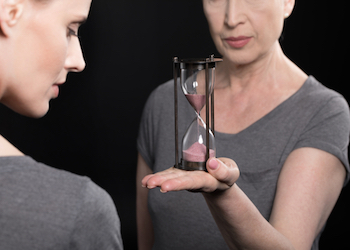 I moved away from home at 19! Actually, they moved away from me. Have 8 younger siblings and after my first year of college, my family moved half way across the country. I stayed "home". In those days, real effort was required to keep in touch with people. It was long before call waiting, emails, texts, cell phones, free long-distance calls, and Facebook. Basically, it was the olden days. 
Yet my mother remained my best friend, confidant, and trusted advisor on matters of the heart and soul. I remember standing in the hallway of my dorm room talking long distance to her on the pay phone. I remember "looks" from roommates as I relayed the latest tale of my life. And the as technology progressed, communication was easier. I could answer other calls during our phone sessions. I called her every Monday morning at 10 after I settled my little ones in front of the TV. I checked in with her on my way to work. My phone bills were especially exorbitant during a "Brennan crisis". My home phone and cell bills were high in those days. But it was the cost associated with living away from family.  
Thirty-three years after moving away, I moved back to the area where my family, more specifically, my mother lived. I was beyond thrilled to live again in the same state as a family member. My father forewarned me though. "Wait until you live near your mother. She's very difficult." I thought he was jealous; after all, he was the difficult one. Neighbors! Imagine my joy at the prospect of being that close again. Even from a distance, for all these years, I had loved my mother unconditionally. I would do anything for her. Make any sacrifice. Travel great lengths to spend birthdays, holidays, special events with her. 
Things were great…for a while…as long as I was doing the giving. It was a gradual breakdown but a breakdown nonetheless. I asked her once if she "liked" me. I didn't think she did. I took care of her when she was sick, when none of my siblings even visited. She was angry, frustrated and directed her negativity at me. I took the hit for the team. I tried to be understanding. 
I decided I needed to set limits, and basically stay away. I didn't like to be with her anymore. She would leave me crazy letters on my laptop. She thought this was a better way to communicate even when I asked her to speak directly to me. She told me it was my fault that she wrote letters. She didn't find me approachable and couldn't speak her mind. So I'd get another letter. 
She asked to speak to me one afternoon. Of course, I obliged. She asked me not to say anything while she spoke. She read from three pages of notes about the infractions I had caused. One of them was that I didn't tell her how nice the yard looked when I knew that the landscapers had been at the house. She reprimanded me for the "looks" I was giving. I explained that although I could control the words that come out of my mouth, I couldn't control my eyebrows. They have a mind of their own. I sat with my mouth gaping at the message she thought so important to deliver. 
Things continued to go south. It was devastating to me. What happened to our relationship? I hadn't lived near her for 33 years but our communication during those years had mostly been good. A friend suggested that I listen to my brother, Neal's podcast. His view was something I would have argued in the past, but not now. I agreed with him! She is the epitome of the three M's! She has to Manage, Manipulate and play Martyr. I felt a bit better…but still sad about the state of our relationship. Going from best friend and life ally to no relationship, no communication is not an easy transition. 
It's tough to write this. There's been a death, but she's still alive 1 mile from me. Be sure to hug your mother tonight.