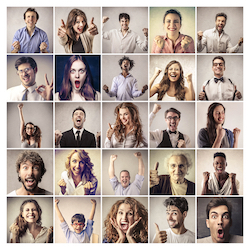 I would like to share with you an Article from M.A. & Co. that I came across some time ago.
"Growing old isn't always easy. There's the financial uncertainty of living on a fixed income; health problems may become more acute; hearing and vision tend to weaken; stamina falls off. Despite the obstacles, it turns out that the oldest Americans may be the happiest Americans. The Gallup organization surveyed 340,847 people, ranging in age from 18 to 85. The study was prepared by professors at Stony Brook University, Columbia and Princeton.
In the survey people were asked to rank their life satisfaction on a scale of one to ten. They were also asked whether, on the day before the survey, they had experienced enjoyment, happiness, stress, worry, anger or sadness. Analysis of the data revealed some surprising patterns in life satisfaction as people age.
• Stress and anger decline steeply through the 20s.
• Worry is elevated through middle age.
• Happiness and enjoyment decline gradually until age 50, then increase.
• Sadness is essentially flat through the life cycle.
• Men and women have substantially the same well-being through the life cycle.
Overall, well-being seems to decline from age 18 to age 50. At that point, life satisfaction begins improving, and it keeps on improving into and through retirement. According to the study, 85-year-olds are happier than 18-year-olds.
The study did not try to determine what factors contributed to the happiness during aging. It might have been related to whether the person had a partner, to employment status, to financial security, or it could be an inherent element of aging. Exploring those questions was left for future researchers."